Imagine being able to ask a question in plain language, as it arises in a meeting, and get the answer in seconds. Imagine having access to automated insights, tailored specifically to your needs, helping you make better decisions every day.
Conversations with your data
Using the power of ChatGPT-4, inmydata copilot lets you explore your data with natural language.
Find out more
.
Data Exploration
inmydata gives you a toolset to ask questions, drill into details, and freely explore your data however large and complex. Find out more.
Automated Insights
inmydata automatically scans your data for insights, picking out and highlighting facts relevant to you.
Find out more
.
Forecasting
inmydata includes an automated forecasting engine, delivering accurate, rolling forecasts on demand.
Find out more
.
Get the information you need by simply asking
With inmydata copilot, when you need that vital piece of information at short notice, you can simply ask for it, using natural language, and get a response in seconds. No waiting days for a data scientist to schedule your task, no wading through unfamiliar option screens to configure your request, just simply ask the question.
Create
dashboards

in minutes, and share them with users on any

device

inmydata allows business users to create responsive dashboards in minutes. Dashboards render clearly and are easy to navigate on mobile and desktop devices. Add charts, maps, grids and gauges, apply filters and drill downs all with a few clicks to create and share the perfect view of your data across your organisation.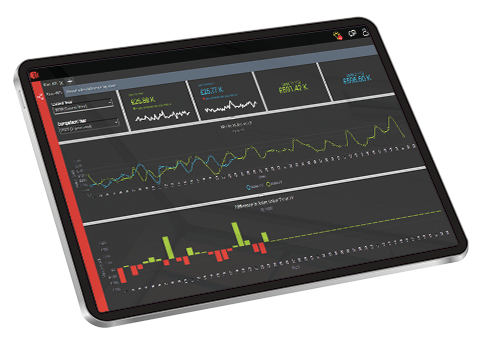 Unleash the value of your data
At inmydata our mission is to help our customers differentiate and grow their organisation by unleashing the potential of their data. We pride ourselves in applying a wealth of experience and our innovative technology to solve our clients' challenges. We are committed to supporting our customers throughout their data journey, from the initial scoping of the opportunities offered by their data, through to design, implementation and ongoing management of their data solutions.
experience and innovation in analytics
inmydata is the latest innovation brought to you by a team who have delivered analytics solutions to more than 30 thousand users, in more than 300 companies across 11 countries. We use this wealth of experience and a drive to innovate to help our customers transform the performance of their organisation.

Experience
We were among the first software developers to enter the field of analytics. Our solutions have been adopted by organisations large and small across the world, both as an embedded technology for our technology partners and as a stand alone application to our direct customers.

Innovation
Innovation is at the core of what we do. From being one of the first developers to enter the field of analytics, to the creation of automated insights and the adoption of machine learning, and most recently the integration of ChatGPT4 to deliver conversational analytics, we are constantly pushing the boundaries of what is possible.

Customer Focus
We make sure our management, developers and designers have regular direct contact with our customers and partners, ensuring our products are focused on their requirements and our support is second to none.
experience and innovation in analytics
Over the last 19 years we have delivered analytics solutions to more than 30 thousand users, in more than 300 companies across 11 countries. inmydata was born out of this wealth of experience and a real drive to innovate.
We think inmydata is fantastic, but it's your opinion that counts. If you have a spare half hour, we'd love to show you the product in action. Just click the button below, fill out a few details and we'll be in touch to arrange a demo at your convenience.