natural conversations with your data
Using the power of ChatGPT-4, inmydata copilot lets you explore your data with natural language. Ask a question, then as many follow up questions as you need, each time uncovering more insights.
Get the information you need by simply asking
With inmydata copilot, when you need that vital piece of information at short notice, you can simply ask for it, using natural language, and get a response in seconds. No waiting days for a data scientist to schedule your task, no wading through unfamiliar option screens to configure your request, just simply ask the question.
Understanding your data, and the world that contains it
inmydata copilot provides a bridge between your data and ChatGPT-4, a generative AI model trained on vast amounts of data from the internet. This means answers are not confined to what is contained in your data, but can also provide context from anything related in the real world.
The result is a natural language interface that is not only capable of answering complex, detailed and specific questions about your data, but can also provide reasoning with a broad understanding of the wider world.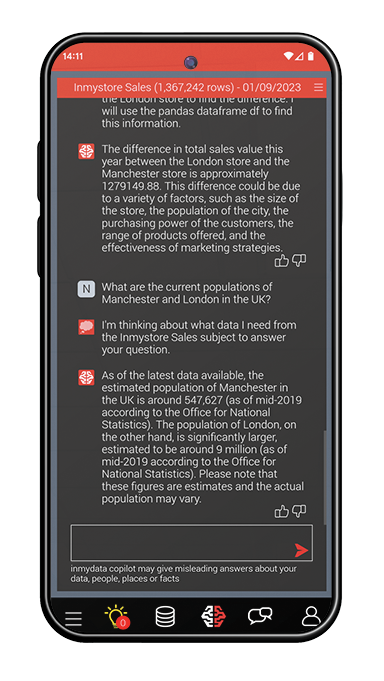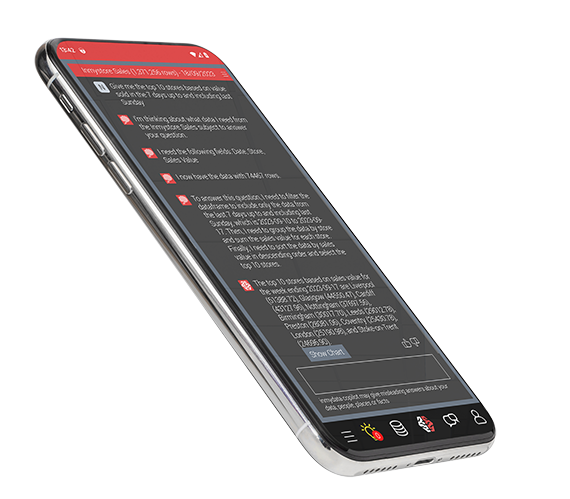 Explore AI generated charts
inmydata copilot generates charts from your data to visualise it's answers. Like any chart in the platform, you can drill into any detail and freely explore the data behind it, on any device.
Experience and innovation in analytics
Over the last 19 years we have delivered analytics solutions to more than 30 thousand users, in more than 300 companies across 11 countries. inmydata was born out of this wealth of experience and a real drive to innovate.
We think inmydata is fantastic, but it's your opinion that counts. If you have a spare half hour, we'd love to show you the product in action. Just click the button below, fill out a few details and we'll be in touch to arrange a demo at your convenience.